In business, there is no room for stagnation. If your company isn't growing, it's dying. This was the harsh reality that an e-commerce company that approached us earlier this year faced.
Here is a look at how we utilized SEO, Google Merchant Center, and email marketing to bring this e-commerce company from red to green, year over year.
The Problem
The company that came to us was in a unique position. Despite selling a product that is 100% legal in all 50 states - Google, Amazon, and Meta did not allow them to advertise using paid media. Since the products were accessories to guns, it violated their policies.
The end of 2021 signaled some slowing which prompted them to hire a web developer to redesign their website. This launched in February of 2022 and due to the mishandling of the SEO - their rankings dropped off a cliff. The first quarter of 2022 saw a 19% decline in net sales year over year by the time March had wrapped up.
Their goal for us? Not only recover the lost year over year net sales - but to turn those red numbers green. I'm extremely happy to report that in less than 8 months we did just that. Here's the proof.
Their first quarter 2022 sales from WooCommerce:
Fast forward to Q3 of 2022, our numbers increased significantly. As of today, we are looking at a 14% increase in net sales year of year.
This was a particularly challenging project for our team since we were blocked out of paid media. This was entirely based on SEO recovery, e-commerce conversion optimization, e-commerce email automations, and email marketing.
Let's explore each of these improvements in detail.
E-Commerce SEO Recovery
In an attempt to help their slowing sales, they decided to hire a web developer to create a brand new WooCommerce website for them.
Launched in February of 2022, while utilizing Google Search Console we noticed that their impressions and clicks took an immediate dive around the launch of the new website - then continued on a slow decline.
Overnight, their sales had dropped tremendously because their best source of traffic was no longer there.
The developer was saying to give it time to recover, but unfortunately, things only got worse over time.
The first issue identified was that the new (and old) website was not up to date according to Google's Page Experience metrics.
The new website was so bloated and incorrectly built that we ended up rebuilding the entire front end to get the technical issues under control. Most WooCommerce websites do not meet these standards anyhow, so we probably would have had to do it anyway.
Content Layout Shift (CLS) and Largest Contentful Paint (LCP) were our largest hurdles to overcome. After about two months of technical fixes to every part of their WordPress stack, we were able to get Google to validate these fixes.
This chart from Google Search Console shows the number of critical issues (red) and intermediate issues (yellow) over time.
We have achieved total Page Experience validation!
Google goes out of their way to identify whether or not the URLs are "Good". We were able to bring their entire site into compliance.
Now that their website was technically fixed, it was time to start communicating with Google about the data on their website.
Sure, Google crawls every website, but unless the e-commerce website is hooked up correctly, they would not benefit from advanced search results like rich snippets!
Here is Google Search Console showing the acknowledgment of each "Product Enhancement" seen on the website after we configured the structured data appropriately.
Now that Google is seeing each product on the website and acknowledging it on Google Search Console, now we can add advanced product information to be displayed next to any product showing up in Google Search.
Here you can see the number of products with reviews slowly climbing as our email automations encouraged more customers to rate their products.
This creates more positive SEO signals for Google and a better search experience for the searcher - leading to higher click-through rates! Even if we don't gain any rankings, we can get more traffic utilizing this method!
Another e-commerce optimization we implemented was to actually reduce the amount of indexed pages on Google.
WooCommerce and WordPress can make a lot of "useless" or unoptimized taxonomies and archives that can confuse Google.
We want to make sure that every single page that is served sends positive signals to Google when someone clicks on them.
With the technical bits of SEO behind us, we were then free to optimize the product pages with what most people think of as classic SEO tactics.
Correct headings and keywords are as important as ever (just not the only thing we do anymore).
In May 2022, a Google core algorithm update was rolled out and we saw the best performing keywords increase in performance due to our new optimizations.
In the following screenshot, our average position jumped from 4 to around 1. That is a HUGE click difference for those positions.
We saw high intent, non-branded search terms increase immensely. With the added rich snippets from our technical improvements above, our click-through rates became much higher. The following search terms are for just one product in the past few weeks.
Let's end this section by looking at the overall Google Search Console graph from right before their new website, to now.
Even though we removed half of their indexed pages, we are seeing impressions and clicks rise with even better performance!
The key takeaway here is that while no overall strategy can only rely on SEO tactics to keep a business afloat - ignoring glaring issues is literally leaving money on the table.
Google Merchant Center
A tip that most e-commerce owners don't know is that Google Merchant Center is an important signal to Google for SEO purposes. It's not just about PPC management.
Despite this company being banned from Google Ads, we were able to configure Google Merchant Center and get a lot of the products onto Google Shopping.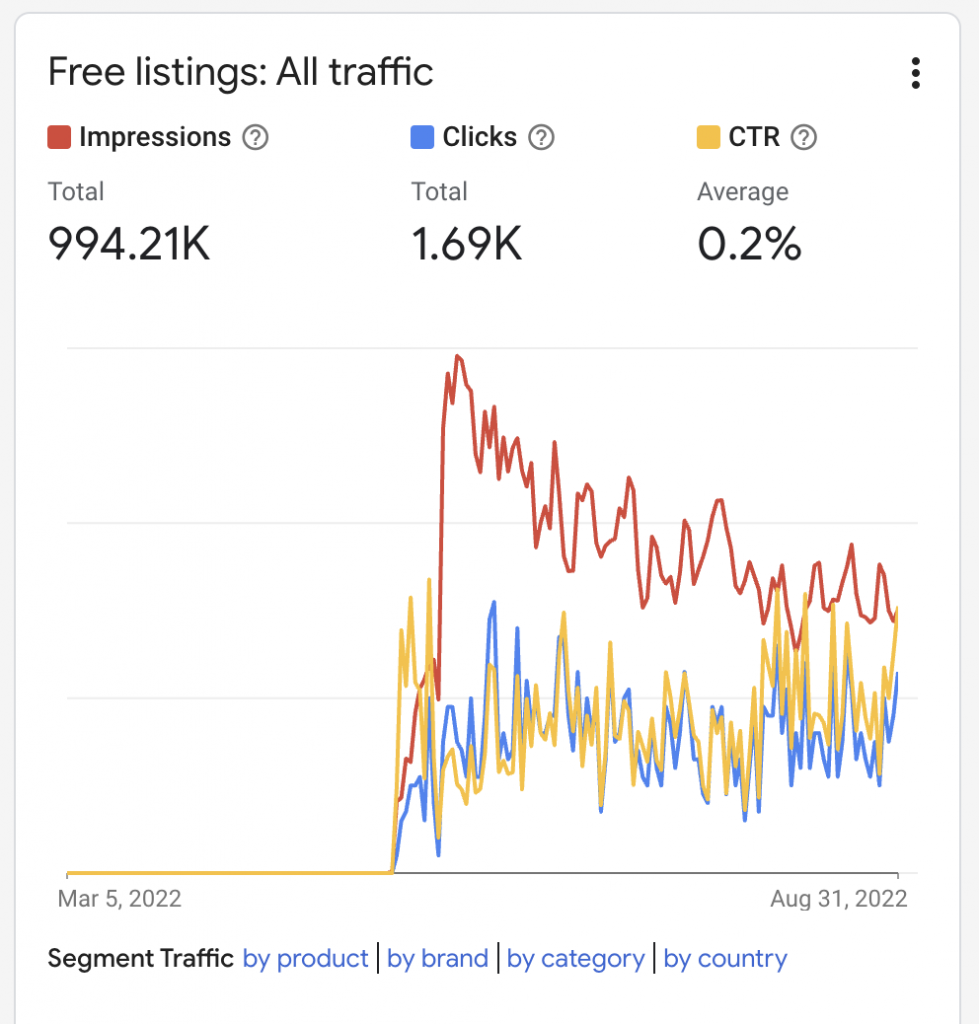 Remember, this brand technically violates Google's advertising policies so we end up with a lot of product variations being "disapproved".
It's difficult to optimize this channel because gun accessories are not appreciated by Google, but that's okay because we're getting the SEO signals we need - along with some clicks that we wouldn't have gotten otherwise.
E-Commerce Email Marketing
With foundational SEO taken care of, the next step was to leverage our e-commerce email marketing systems to improve sales.
The client was with Constant Contact while also using a WordPress plugin to send abandoned cart emails. These two solutions did not have the power that we needed even to start implementing what we needed to get done - not to mention track it!
We quickly brought them over to Klaviyo and implemented our basic e-commerce automation systems. That includes:
Abandon Cart Flow
Browse Abandonment Flow
Product Reviews
These flows work on top of our in-house segmenting philosophy and weekly email marketing. The results have been fantastic.
Instant ~10% increase in revenue with ~4% coming from email automation, and ~6 coming from our weekly campaigns.
Keep in mind that our product review flow not only generates direct revenue, it also keeps our SEO signals strong by gathering new website reviews that Google is looking for because of our technical SEO updates from above!
The best part about this success story is that we are not even close to being done!
Because the majority of our work was getting the "foundation" right for this e-commerce brand, now we get to work on even more revenue-generating tactics.
If you own or work for an e-commerce company and feel like you have areas to improve in your own SEO, email marketing, and web development - we would love to have a chat with you!
The market is competitive when it comes to e-commerce - so every single little issue needs to get resolved for you to have the best chance of success.
It's very possible that some of your current marketing efforts are being held back by foundation issues that normal digital marketing agencies overlook. We pride ourselves on being extremely technical marketers who always look to the bigger picture when working with our clients.